Rina Sawayama: No Ordinary Superstar
From high-fashion supermodel to international sensation, Rina Sawayama has not had the standard route to becoming a pop star. Having grown up in Japan and moved to the UK when she was very young, Rina does not look like the average UK pop artist. In her music, she expresses her struggles having emigrated from her native land: microaggressions, parental problems, intergenerational trauma, and exploring sexuality. Her music is more than just catchy radio music—it's raw and emotional, addressing her questions about society and her own identity.
Additionally, her versatility in music style makes her stand out from the competition. In her debut EP RINA in 2017, she combines the genres of synthwave, avant-pop, and 90s retro to discuss living in the technological age with songs like "Cyber Stockholm Syndrome" about the liberating yet confusing nature of online personas and "Tunnel Vision" about the difficulties in maintaining real-life connections in the midst of online relationships. In contrast, her first full album SAWAYAMA provides a wide variety of genres ranging from nu-metal to rock to bubbly pop, sometimes even within the same song. Alongside the array of genres scattered throughout the album, Rina covers an assortment of issues personal to her—such as her inheritance of intergenerational pain as narrated in the track "Dynasty"—as well as general problems within society—such as excess waste produced by global capitalism and the consequential climate change that are mentioned in the track "XS."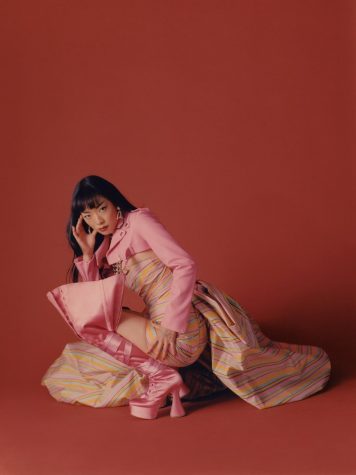 Even her music videos are unique, each one with great artistic vision that can be described as theatrical, unorthodox, and campy. While they all generally involve eccentric makeup, hair and fashion choices, highly-developed storylines, and distinct choreography, each one has a different flavor, and fans never know what to expect with each release. Her ability to constantly evolve her sound and artistry while also analyzing important issues has made her an up-and-rising star in the music industry, one who is constantly fusing and inventing new genres to develop her overall artistic image.
However, this journey has not been easy for her in any way, shape, or form. Being Asian in a predominantly white industry, Rina struggled with promoting her music due to little support from the music industry while her mediocre white counterparts easily gained attention through big producers. In fact, when talking about the process in releasing her first EP, she mentioned that she had to work several jobs at once and had to save up for years until she could release her own music. Furthermore, in Sawayama, she speaks up about the discrimination she has experienced even after being signed to a label—the constant microaggressions, the anti-Japanese sentiment, the fetishization, and the overall condescension she faced.
"
Rina is reaching new heights, opening doors for aspiring Asian and LGBTQ artists around the globe and redefining the limits of pop music. If there's any artist to get into right now, Rina is the one."
More recently, Rina Sawayama was denied a nomination for the Brit Awards and the Mercury Awards because she was deemed "not British enough," despite the fact that she grew up in the UK for 25 years. She was devastated, not only because she was (obviously) snubbed of the award, but because this was "othering," making it as if she had to choose between her Japanese citizenship and her British nationality.
Nonetheless, Rina has overcome the adversity, and her fanbase of "Pixels" continues to grow day by day. With over 1.5 million monthly listeners on Spotify, millions of views on her music videos, her U.S. television debut on The Tonight Show with Jimmy Fallon, and her upcoming tour in 2021, Rina is reaching new heights, opening doors for aspiring Asian and LGBTQ artists around the globe and redefining the limits of pop music. If there's any artist to get into right now, Rina is the one. She is an all-round amazing singer, artist, and performer, and she is a force to be reckoned with.